We are the creative

DigiPub

focusing on




web designing and associated services.




– Somewhere between sophistication and simplicity
Provide Quality services are our watchword. Focus on web designing and publishing and associated services; graphic design & printmaking, digitising, conversion of image to required format, digital assets include database management. Provide services at such a level as to delight the customer. Make available our services online. On top of every of our services, troubleshoot any problems our customers report us what they note in Joomla website or WordPress website online, we have consistently found solutions and fixed at very affordable fees. For websites in annual maintenance, we take care of to the fullest satisfaction.

Website Design and Development
Web design is technically a subset of
the broader category of web development.

Custom Websites Development
Content Management System-CMS
has opened up for industry specific designed templates and themes.  We customise the customer's ideas into reality and build websites.

Ecommerce website solutions
Developing Ecommerce websites was generally a complex process. With extensive working knowledge  we now make every effort in
giving total solution.

Graphic design and printmaking

Design Content/Image Sliders,
Whiteboarding Videos

Digitise photos and documents
to required format

Website Hosting & Management solutions

Troubleshooting and fixing
We collaborate with you to solve
complex website challenges – together
 We are proud to present 'What We Are' and 'What We Do';  a open book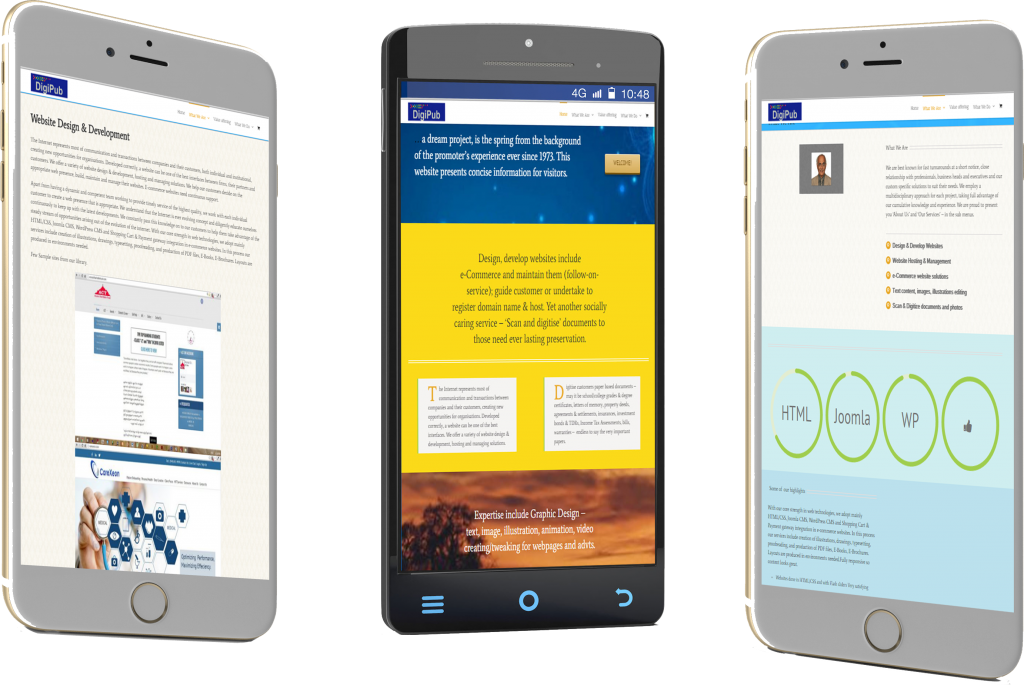 Desired to have your website online?
We present you a simple Strategy.
4 Keys!
| | |
| --- | --- |
|  1. | We design, develop and make website; when the process of the customer agreeing and assigning the work to us is complete. Test and set website ready to get published online. |
| 2. | To get a website up and running; there are a few things you may want to consider before doing so. One is initially, you will want to Search your domain(s) of choice to make sure they are available. Purchase a DOMAIN (website name) that is most appropriate to the business targeted to be transacted on website. Make choices, and register one available domain name in our Domain & Hosting; yes DigiPub is now Domain Registrar. The globally best Domain Registrars recommended are listed in Products and Services Promotion Page. |
| | |
| --- | --- |
|  3. | Second consideration; assess which website hosting product and plan you will need. Purchase DOMAIN HOSTING space, as required to the size of website provisioning, growth in one year.  DigiPub is now a one stop solution provider; "Domain" and "Hosting" offered for clients and new customers. Anyone can take advantage and Buy their Domain and Hosting plan of your choice. For overseas customers and for those affordable and want to have some brand image, Acclaimed Global Brand Hosts recommended are listed in our PROMOTION page, |
| 4. | Upload the offline database to the database of website hosted. Upload the working files i.e., Joomla or WordPress whatever to the website www root location. Open the browser and type the website address – see the website working fine. This process initially we do it. Follow-on-work can be undertaken on our terms. |